>
Best Day Trading Platform in Malaysia in 2022
Best Day Trading Platform in Malaysia in 2022
Which is the best trading platform in Malaysia? Is the best trading platform also best for beginners and day trading?
We have, reviewed a great number of online trading platforms and found the answer in the list below. A few of the best platforms that didn't make the list were trading platforms from Tradefred, BDSwiss, Nord FX, HotForex, CMC Markets and Saxo Bank. The winner from these reviews: AvaTrade's trading platform is the best trading platform in Malaysia. AvaTrade is also great for day trading. OctaFX and Markets.com also made the top three trading platforms in Malaysia.
The wonderful news for you as a trader is that all the nine trading platforms in the list below are completely free. The 9 best trading platforms in Malaysia are:
AvaTrade Trading Platform
Markets.com Trading Platform
OctaFX Trading Platform
BlackBull Markets Trading Platform
NSB Trading Platform
XTB Trading Platform
Capex Trading Platform
Eightcap Trading Platform
FBS Trading Platform
Of course, these top nine trading platforms are run by brokers that are legal in Malaysia and also accept traders from Malaysia. Furthermore, all of them offer Islamic accounts which will secure that you follow sharia law. However, as always with trading, never invest more than you can afford to lose. Below you can read our more in-depth reviews of the best nine trading platforms in Malaysia.
1. AvaTrade Trading Platform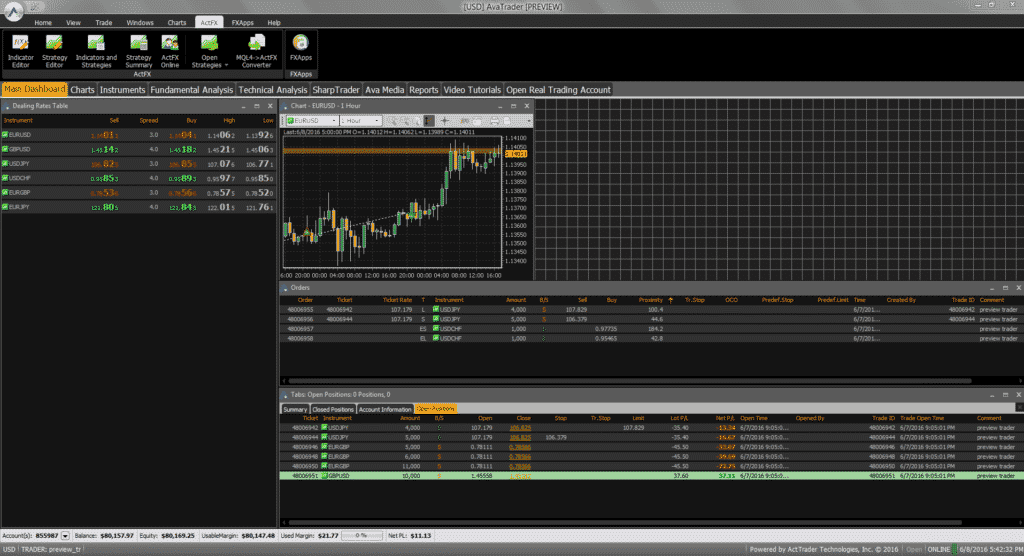 AvaTrade supports a wide variety of trading platforms. The brokers' proprietary client-side AvaTrader trading platform works on Windows XP, Vista and 7, and a Macintosh version is also available. Of course, all of them are very easy to download and install directly on your desktop or laptop computer.
The screenshot below shows the extensive functionality of AvaTrader, including technical and fundamental analysis, reports, tutorials and account management features.
Also, the AvaOptions Web platform and the MT4 WebTrader allow you to sign in to your AvaTrade account using any Internet browser without having to install it on your computer. Lastly, the AvaTradeGo app allows you to trade in an AvaTrade account using an iPad, iPhone or Android phone and/or tablet so you can manage and view your AvaTrade trading account while away from home. Read more about the AvaTradeGO app here.
In addition to its own AvaTrader trading platforms, AvaTrade nicely also supports the following trading platforms: Metatrader 4, Metatrader 5. DupliTrader, and ZuluTrade. For those already using MetaTrader, AvaTrade also offers their own version of this popular forex trading software to make your account installation easier.
---
2. Markets.com Trading Platform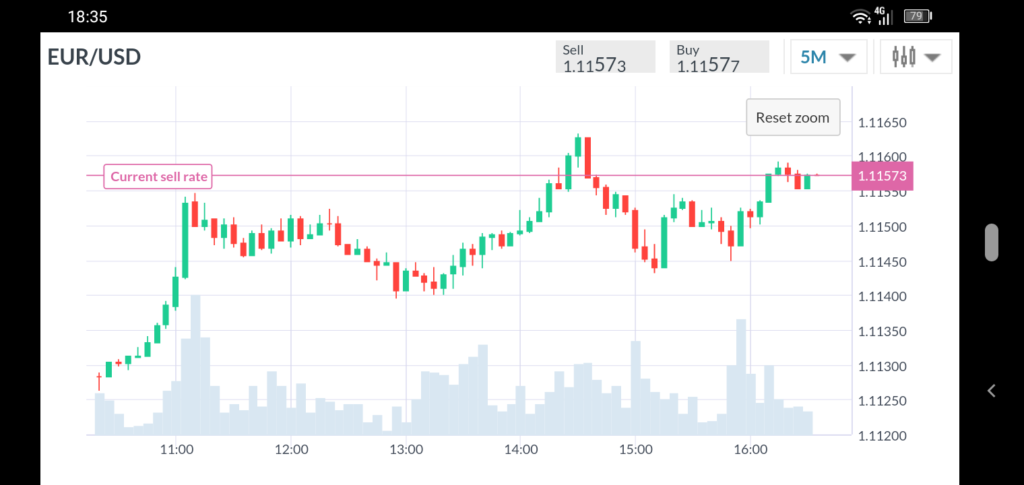 The Marketsx proprietary platform is the go-to platform for trading forex and CFDs at Markets.com. Besides being surprisingly powerful charting and analysis-wise, this multi-asset web-based platform is also available in mobile versions, for Android- as well as iOS-based devices.
Scores of technical indicators are included in the Marketsx package and there are many unique features too. Real-time news feeds are also delivered for those keen on trading the fundamentals in combination with technical analysis.
MT4 and MT5 are also part of the Markets.com platform offering. The world's most popular (and arguably: best) trading platform MT4, hardly needs an introduction. It offers superb charting and analysis, with scores of technical indicators pre-installed in the freely downloadable version. Traders are free to add additional indicators and those so inclined, can even code their own.
MT4's favorite feature is its support for EAs and for EA creation. EAs work best when coupled with a proper VPS service.
As an upgrade to MT4, MT5 is a powerful trading platform with many advanced features and analytical tools. Both MetaTrader 4 and MetaTrader5 platforms can be accessed directly from your web browser and via a download to your PC or preferred mobile device.
---
3. OctaFX Trading Platform
OctaFX will greatly please many forex traders since it offers support for the very popular MetaTrader 4 and MetaTrader 5 online trading platforms and their mobile apps. In addition to trade execution and order placement, these platforms offer extensive charting, technical analysis and portfolio management features. They also allow you as a trader to write your own Expert Adviser that can automate dealing activities.
The screenshot shown above illustrates the basic functions of the OctaFX installation of MetaTrader 4, which includes market monitoring, charts and technical analysis, on-screen trade execution, trade history and account management features.
OctaFX also supports the increasingly popular series of desktop and mobile app trading platforms offered by cTrader, which offers interesting features for you that MetaTrader does not offer.
---
4. BlackBull Markets Trading Platform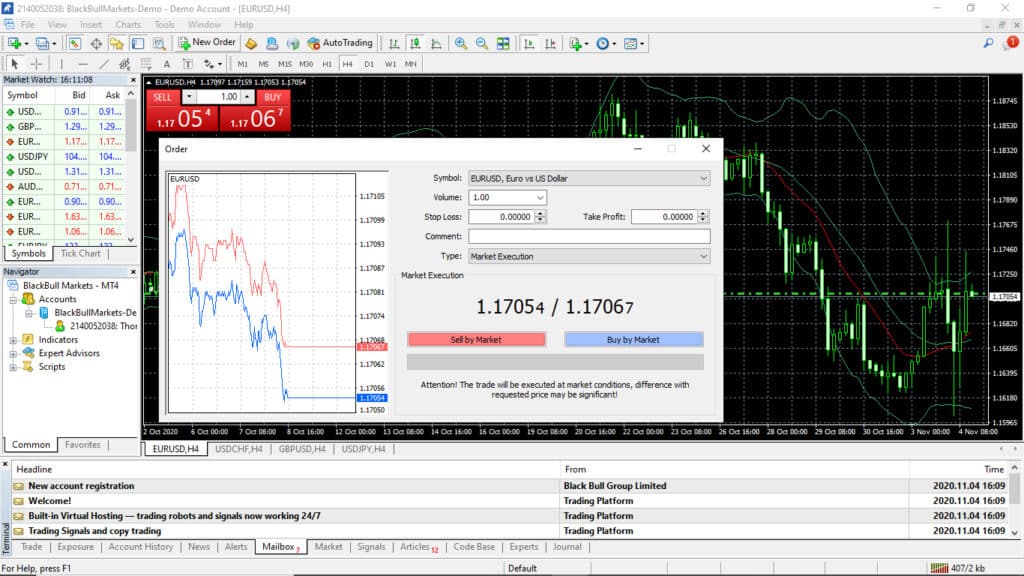 BlackBull Markets offers three trading platforms.
MT4 is a fully customizable online trading environment most traders know and love. The broker has made it available in a range of versions for Windows, Mac, iOS, and Android.
BlackBull's version of the platform offers an institutional-grade experience. It supports EAs (Expert Advisors), and together with the VPS service the broker also offers, this sets the stage for profitable algorithmic trading.
Like most of its other features, MT4's EAs are fully customizable. You do have to be handy with MetaScript, however, if you intend to program your custom EAs.
In addition to EAs and superb charting/technical analysis tools, BlackBull's MT4 supports multiple order types and analysis tools. Other noteworthy features/functionalities of the platform are enhanced order execution capabilities and a market watch window.
MT5 is another popular MetaQuotes trading platform, covering slightly different needs than MT4.
MT5's main strengths are fast order processing, support for advanced pending orders and hedging, as well as a bevy of trading tools and technical indicators.
The version available for download at the BlackBull Markets website comes equipped with more than 30 preinstalled technical indicators, covering more than 20 time frames. The platform also features an integrated economic calendar to help with fundamental analysis.
Traders looking to access MT5 need to talk with the BlackBull Markets support first and obtain permission.
The BlackBull Markets Web Trader is a simplified version of the MT4 platform. Its trading interface is intuitive, and it offers a great selection of drawing tools and technical indicators.
According to the broker, its Web Trader delivers all the benefits of MT4, in a highly compatible no-download package.
---
5. NSB Trading Platform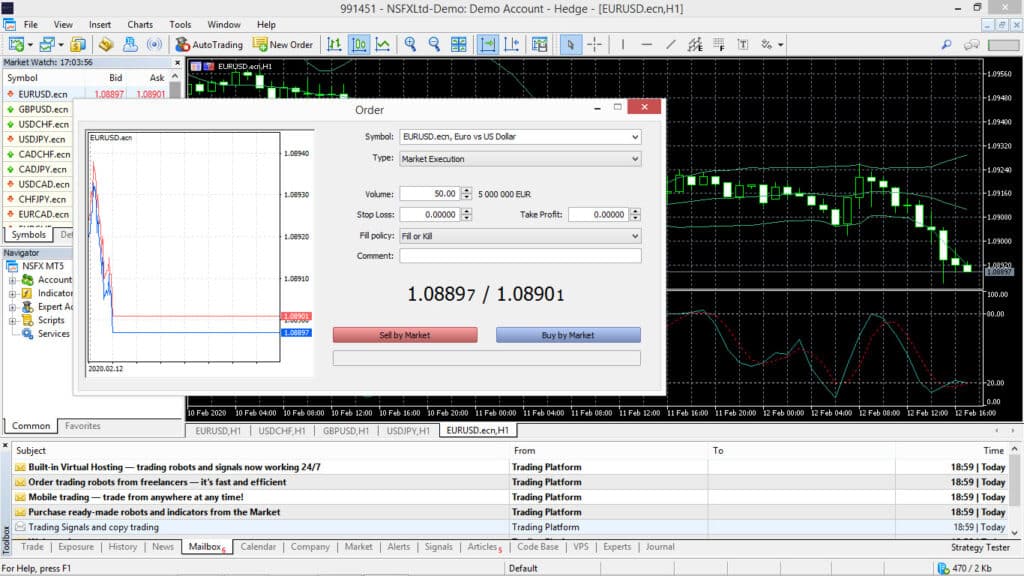 As mentioned, platform-wise, NSBroker has kept things as simple as possible. The only trading platform it supports is MT5.
Traders can download MT5 directly from the broker's website, free of charge. Installing it takes a few seconds and a few clicks. Opening a live account takes a bit longer. The verification process should not take longer than one hour, however.
Though the evolutionary successor of MT4, MT5 is not exactly its predecessor's superior. It is designed to excel in other ways than MT4. One of its strengths is flexibility. MT5 works perfectly well as a web-based, no-download trading platform, as a downloadable terminal, and as a mobile trading platform.
The charting capabilities of MT5 are comparable to those of MT4. The menagerie of preinstalled technical indicators and drawing tools is also impressive. One-click trading is also part of the MT5 package.
Perhaps more importantly than all the above, MT5 is great at:
– Using automated trading.
– Producing actionable trading signals.
– Linking up with outside frameworks and administration structures.
As far as trading tools go, MT5 delivers in this regard as well. Its MetaQuotes language editor lets users create and modify technical indicators as well as automated traders.
The MT5 Agent Tester service allows for the testing of automated trading strategies. Agent creators can make their auto traders available to others for free. They can even charge a fee for their Agents, via the MQL5 Cloud Network.
Traders can also register their accounts as trading signal sources, directly though the MT5 interface.
---
6. XTB Trading Platform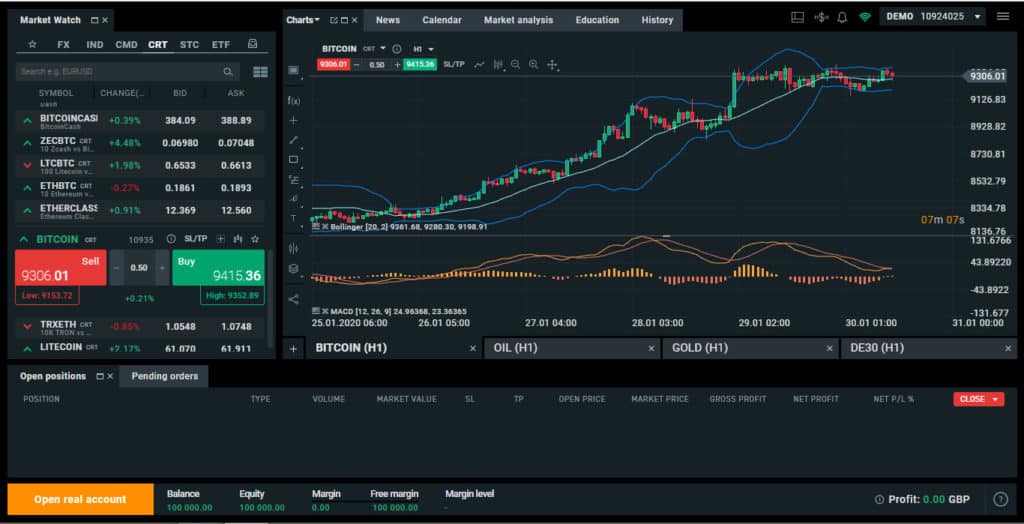 XTB supports two trading platforms (three if we count the mobile app): MT4 and XStation5.
MT4 is a great centerpiece for every online trading operation. It is proven, people love it and it offers superb trading tools. XTB's version of MT4 is no exception either. It comes with scores of technical indicators and drawing tools. It aids technical trading in several ways. Among its special features are:
A chart pattern recognition tool. With this tool, you can define Stop-Losses and Take-Profits. You can also set entry- and exit points for your trades, quickly and easily.
The Strategy Tester is another superb addition. It allows you to back-test your trading strategies and thus to fine-tune them.
Custom indicators. The platform lets you create and purchase custom indicators. Installing these indicators is really quick and simple for you.
If you are looking to trade at XTB through MT4, you can download the software for free. There is also a free browser-based option available.
The XStation5 is the proprietary trading platform of the broker. It is an award-winning piece of software. XStation5 supports a massive range of tradable assets – more than MT4. It is also easy on the eyes.
The platform offers outstanding execution speeds, scores of drawing tools and a superb selection of technical indicators.
XStation5 is available in a web-based and mobile format. The two versions look similar. The web-based one does not require downloading. It works well with all the major browsers.
To sum it up:
XStation5 lets you as a trader buy and sell more than 4,000 tradable assets. FX, as well as a wide range of CFDs, are available on a single platform.
The featured charts are clear. They lend themselves well to technical analysis.
You can set SLs and TPs directly on the charts. There is a built-in trading calculator, which details potential profits and losses.
The broker maintains a team of professional traders. This team shares tips and trading signals with users. An Economic Calendar will also help you with fundamental analysis.
The sentiment indicator offers a glimpse into how your peers trade a given instrument.
Both platforms support real money- as well as Demo accounts.
---
7. Capex Trading Platform
While most of their industry peers seem set on offering a bewildering array of trading platform options, CAPEX have apparently decided to keep things as simple as possible in this regard. They only feature two trading platforms, though these two platforms cover all the possible devices/needs their traders may have.
The advantages of the CAPEX Web Trader are obvious: unlike downloadable platforms, the web trader allows users to access the markets from anywhere, through any device. Needless to say, the compatibility of this trading platform is outstanding: it works with all the major browsers. The web trader covers all the trading instruments available through the downloadable platform, and it offers an impressive range of indicators and trading tools. In fact, the web trader has more built-in indicators than the downloadable MT5 platform: some 90 such indicators are available by default, and again: nothing has to be downloaded. A total of 3 chart styles are available through the web trader and online help can be accessed at the click of a button.
Web trader users also gain access to Trading Central, which delivers intraday analysis and recommendations from an actual financial analyst. In addition to all the above, the web trader also features streaming live quotes, so traders can make good decisions on the go.
Navigating through the platform interface is simple and intuitive. One-click trading straight off the charts is available too.
MT5 is the flagship trading platform of the brokerage. It can be downloaded directly from the CAPEX website and it is the natural evolutionary iteration of the popular MT4. Through MT5, traders will find it easier to build their own custom indicators and expert advisors.
Needless to say, all the perks and features one would expect from a platform like MT4, are indeed available through MT5. The trading interface as well as the charts are highly customizable. Traders can create chat templates and save them for later use. Advanced analytics are a given with MT4 as well as MT5. The platform comes with more than 30 preinstalled technical indicators, but users can pick up an additional 2,000 for free, and install those too. A total of 9 time frames are featured by MT5.
The high level of automation has always been one of the main attractions of the MetaTrader suite. The CAPEX platform features EAs, trading position alerts and embedded tick charts. Trade execution through MT5 is said to be instant and multiple payment services are supported.
The MT5 offered by CAPEX is available in several versions. It can be downloaded for Windows, as well as iOS- and Android-based mobile devices. The Demo account offered by the site works on the Web Trader as well as on MT5.
In addition to the trading platforms detailed above, the broker also offers a handful of extra trading tools. CAPEX traders can access Trading Central and there is an Economic Calendar at their disposal, to help out with the fundamentals.
---
8. Eightcap Trading Platform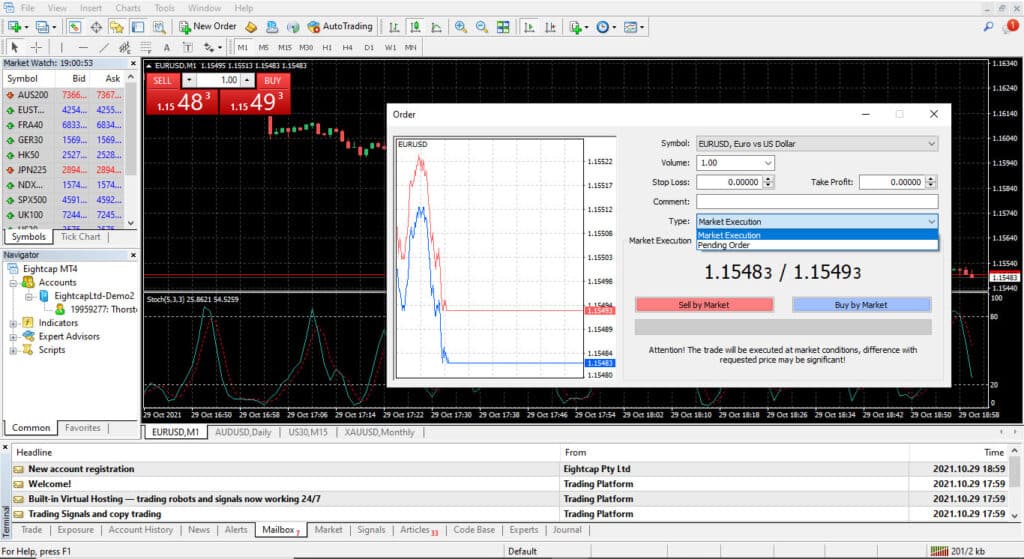 MT4 is the workhorse of the online trading industry. And there are several good reasons why it's so popular with traders.
Its technical analysis features, including indicators and drawing tools, are the best.
It allows a lot of flexibility trading-wise through the order types it supports.
It lets traders use robots to automate their trading. Those interested can pick up many such robots for free or can buy them on the MetaQuotes market.
In addition to letting them trade as they see fit while giving them the tools to make informed decisions, MT4 gives traders access to a vibrant online community.
MT4 encrypts all data exchanges occurring through its operation. It is, therefore, the safest way to trade online.
The MT4 version that Eightcap uses is available in a desktop version and mobile versions for iOS and Android devices.
Eightcap's MT4 supports nine time frames and 30 technical indicators.
MT5 is a welcome addition to MT4 as it rounds out the former's features.
Eightcap's MT5 offers 21 time frames and 38 technical indicators, taking analysis to a higher level.
MT5's fundamental analysis features lend online trading a new dimension.
Like MT4, MT5 also allows the use of trading robots.
In addition to MT4 and MT5, Eightcap also offers a Webtrader. Through the Webtrader, Eightcap's clients can access MT4 or MT5, connecting to the platform of their choice through their usual login/password combination. The Webtrader supports many of the features the full platforms do. It is a good alternative for those who cannot download and install software.
The Demo account the broker offers lets traders access the MT4 platform.
With an Eightcap account, traders gain access to Capitalise.ai, a trading automation solution requiring no technical skills.
Through Capitalise.ai, traders can create relevant technical indicators. They can manage risk, generate trading signals, back-test strategies, etc.
The broker offers a series of webinars to teach traders how to use Capitalise.ai.
Through FX Blue Labs, clients can spice up their trading through custom widgets, charts, and trading apps.
---
9. FBS Trading Platform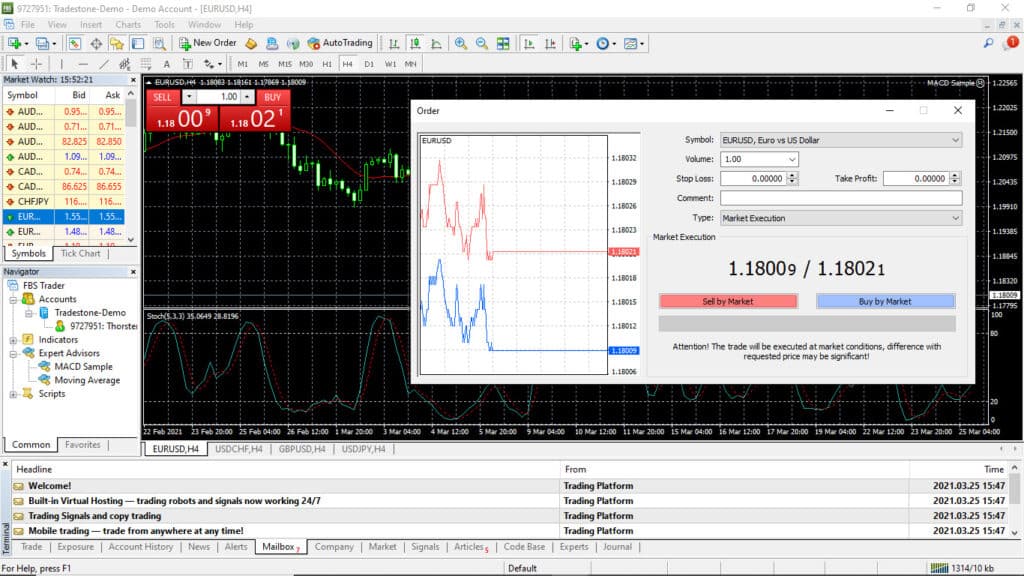 FBS has based its trading platform offer on MetaQuotes' popular MT4 and MT5. Both trading platforms are well known among traders worldwide. Although MT5 may seem like the natural evolution of its predecessor, it is a solution focused on different trading needs than MT4. Thus, it complements MT4 and does not supplant it.
FBS' offer of the two trading platforms covers a wide range of operating systems and mobile devices. MT4 and MT5 are available for Windows, Android, and iOS. For macOS only MT4 is available.
The broker offers a web trader, which is also an MT4 version.
MT4 is the most versatile and powerful platform for online trading. It offers outstanding charting features within a fully customizable trading environment. FBS' version supports Expert Advisors, giving traders the possibility to automate their profitable trading strategies. The downloadable version of the platform comes with scores of preinstalled technical indicators.
The newest version of MT5 offers improved charting, a great trading interface, and the possibility to manipulate trades at will. The platform supports 21 time frames and eight types of pending orders. An economic calendar is part of the platform as well.
Geared toward day traders and advanced users, some of MT5's features may be intimidating for beginners.
The tools available to clients are a copy-trader that can copy Micro and Standard Accounts, an ECN Account option for those outside the EEA, as well as a zero-spread account. The FBS website features an economic calendar and a currency converter as well.
Happy trading!
Please share all the comments you might have on these online trading platforms in the comment field below. Which is the best trading platform in Malaysia according to you? And would you say that the same platform is also best for beginners?